Nov 2, 2008
Ira Tiffen
where I am and where I am going
Viewpoint, parallax and relativity.
Spatial orientation, interference patterns and optical illusion.
All are encountered in the real world;
all are important components of my art.
In Location, Location, Location for example, hard light from the sun or a spot lamp creates a dynamic moiré effect between the graphic pattern of the Ocean and the shadows it creates;
the result is that as you move, changing your point-of-view,
the pattern appears to actually 'ripple,'
much like the real ocean does when seen from the air.
Color is a tool as well;
the four locations are each of similar brightness -
they differ primarily in hue and saturation.
The green, red and blue hues, similarly saturated, of the Hillside,
the Canyon, and the Ocean, contrast with the gray,
unsaturated aspect of the man-made City.
The soft, flowing lines of the natural environments further underscore their differences with the rectilinear configuration of the orderly,
yet somehow still chaotic construct that is the City.
Each 'Location' has its own life; in 'Location, Location, Location,'
I contrast their essential attributes with each other.
Individually, however, they offer still more opportunity for
investigation and discovery.
I am developing a series of unique smaller pieces,
five versions of each location that highlight its appearance
at different times of day and in varying weather conditions.
Art is a manifestation of many things, but for me, most importantly,
it is the manipulation of visual elements in such manner as to convey my point-of-view as a jumping-off point for others to first consider and then take where they will.
The relatively clean structure of Location… is but one aesthetic
I champion. Another is to be revealed in the organic earthiness of my next piece, Formation.
An amorphous cloud of tiny particles coalesces into something more solid, under the watchful direction of its Creator, to form a maze, complete with hedges and flagstones, and
people walking through on their way to…somewhere.
With my background in photo-imagery, future work will move from the topographic quality of 'Location' to literally 'blur the line' further between graphic representation and reality.
Photo-realism will take on a new dimension, pardon the pun…
I have been interested in three-dimensional (3-D) simulation systems,
going back to the late seventies when I first became involved with holography.
My current work takes 2-D art and positions it in 3-D space:
a finite series of planes simulates reality, but only to a limited degree.
By contrast, a hologram provides a much broader, almost infinite range of vantage points,
with the ability to render 3-D detail as fine as life.
Having long ago combined my glass work with holography,
I consider it will be an intriguing opportunity to reach into my past and bring
my subsequent life experience to bear on the artistic potential of
Dr. Gabor's technological wonderland of holographic laser imaging.


Ira Tiffen
Professional Experience
Experience:
More than 30 years creating optical solutions for the photographic, broadcast television and motion picture imaging markets.
Formal Education:
Bachelor of Engineering in Chemical Engineering,
New York University, 1973

Photo of Artist by Jeannie Chapkowski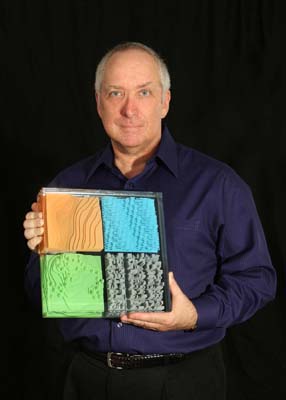 Selected Accomplishments:
Invented the most important optical filter effects of the past 30 years --innovations that are used in the majority of motion picture and television productions worldwide- including Pro-Mist®, Soft/FX®, Ultra Contrast, Color-Grad®, Diffusion/FX, Glimmerglass, Smoque, Cool and Monochrome Day-For-Night, Vector Star, LL-D®

Wrote the 'Camera Filters' section of the ASC standard reference publication, "American Cinematographer Manual," both film and video editions (through several revisions)

Awarded four patents in camera accessory design:
6,820,844- Tripod handle arrangement
D339,599- Camera accessory
5,105,312- Lens mount accessory system
5,040,011- Self-mounted camera accessories
Designed, built and implemented specialized equipment for optical filter manufacturing

Contributing optical design consultant for Disney Imagineering in development of unique elements of
Times Square Studios (where "Good Morning America" originates) (1999)

Created unique product design approach to glare elimination from computer monitors (EZ-See, 1985)

Developed specialized optics for military flight training simulators for Hughes Aircraft, General Dynamics, Rockwell, General Electric, others (1984-1992)

Collaborated on development of mass-produced holographic display images, including embossed and
injection-molded plastic (1980)

Collaborated on production of three signed and numbered laminated glass holographic art editions, of 250 each, by the important Israeli artist, Agam, commissioned by the Times Mirror Corp. of Los Angeles (1980-81)
Awards and Commendations:
Scientific and Technical Award (Technical Achievement Award) from the
Academy of Motion Picture Arts and Sciences (1992)

Prime Time Emmy Award from the Academy of Television Arts and Sciences (1998)

Elected Associate Member of the American Society of Cinematographers (ASC)(1992)

Elected Fellow of the Society of Motion Picture and Television Engineers (2002)

Honorary Doctorate from Columbia College (www.columbiacollege.edu) (1996)

October 2008