Winner of the # 1 Juried Award
in the summer 2005 Exhibit:
The ABC of Glass ART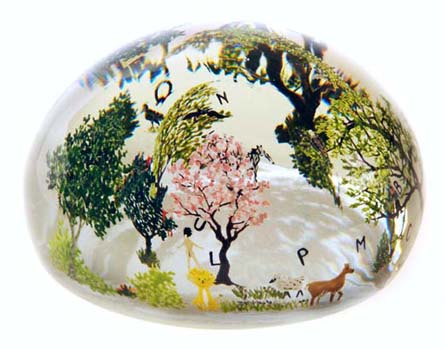 Ruzsa, Alison Ruzsa's Main Page
In the opinion of one of the jurors, Hope Daniels, Editor of
American Style magazine, "Italian Lessons" is a winner in
every way: endlessly fascinating, beautifully executed
Country:
USA
Title:
Italian Lessons
Medium:
Alternating layers of Glass & Paint
Type:
Sculpture
Size:
5 x 7"
Price:
$6000 SOLD June 5, 2005, SOFA NY
Art Collector, Sedona, AZ
2007 value, $10 000

Photos by

Seraphina Tisch

The Artists' creativity for The ABC of Glass Art exhibit seems boundless. Alison's passion towards Italy led her to study the language, and while doing that she created the Italian Lessons. It is a Garden where the names of the Animals' names are in Italian. Click on this bookmark for detailed views of the ABC in the Italian Lessons (below).