What you are looking for is looking for you
Collaborative, Ali & Jad
Bed Scene
Collaborative, Ali & Jad
Facing Heads
Collaborative, Ali & Jad
Ali Rafei discovered his passion for art
at a young age.

His background greatly affected his style
Growing up in a deeply unstable region
made him want to change
the face of Lebanese cities.
He used Wall Art
to break the greyneess of the strrets and
offer people an icentive to
pause and think of a better reality.

Ali experiments in different areas:
Arabic calligraphy (above), stencils, wheat paste,
spray painting and acrylic (to the left).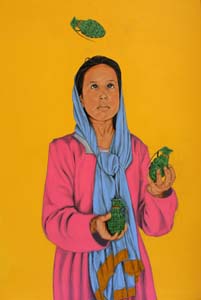 Jad El Khoury is an artist and
interior architect
Through the media of pen and ink,
and a desire of lines and colors,
Jad created – Potato Nose –
a collection of fictive characters
floating freely throughout a composition
and reflecting family, friends and surrounding
as well as extending to people and places that
he experienced during his
travels, dreams and nightmares.
I search the lines that draws your imagination
See more of Jad's Work through this link:
Jad's Home Page