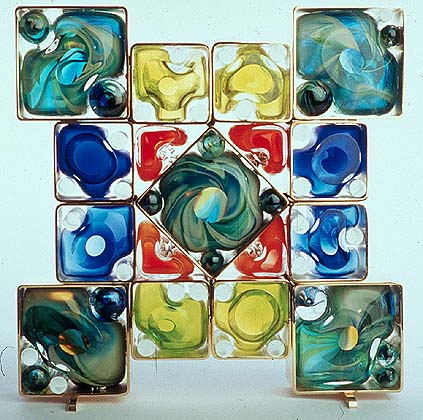 Picaud, Fabienne
Country:
France
Title:
Vision of a Dream
Medium:
Blown Glass into niches of gilded brass. A Dimensional "Stained Glass"
Type:
Sculpture, Panel
Size:
19 19 3"
Price:
SOLD April 5 2003
Collectors, Englewood Cliffs, NJ
The Artist
Fabienne Picaud is well known for these 3 D "Stained Glass" large panels (Contraintes). She just installed one in one of the most important Restaurant in Paris. Her Work exemplifies the harmony in the use of 2 different Art Media (Intimacy between Metal & Glass)
Her smaller pieces (like Mirrored Drop) were chosen by the Elisee Palace at the time of the Mitterand Administration to offer to foreign dignitaries visiting Paris.