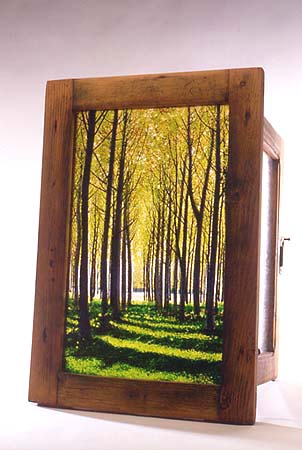 DiFiore, Miriam
Country:

Argentina - Italy

Title:
Spring Window
Medium:
Glass, fused in multiple layers,
mounted in a Window Frame
The Window's Door lends support to the Piece.
The Poem below is etched on the glass panel in the Door.
Type:
Sculpture
Size:
24 16.5 16.5"
Price:
SOLD May 24 2002 during a preview of Miriam's Work prior SOFA NY.
Owned by a Northern New Jersey Collector who now has the
largest number of Miriam's Work,
The Poem
Today I decided to open the window to let the spring come in and I discovered, to my surprise, that the Forest is in my house and the landscape is within me.