BUTTERFLIES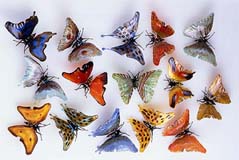 Vittorio Costantini
The Master of Realism in Glass Art
Vittorio Costantini is a poet who speaks about nature through Glass. He was born in Italy in 1944, in Burano, an island near Murano. His father was a fisherman and his mother a lace maker, like most of the inhabitants of Burano. At the age of eleven, Vittorio began apprenticeship at the furnace. Lamp work was first a hobby, which occupied his free time. In 1973, he opened his studio in Venice, and since then he has concentrated on Flame Work.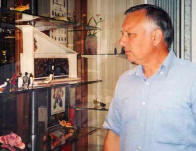 At a young age in Burano, Vittorio developed a fascination for nature, especially the small creatures. He recognized that each of them has its own World within the Universe. Beyond scrutinizing the anatomy of his beloved creatures, Vittorio spent a long time their Habitats and Life Cycles. This self-education has been vital to infusing Life in the Glass Animals he creates.
The multi-colored insects, iridescent butterflies, large variety of birds, fish, seashells, and colorful flowers on which he pours his energies illustrate his love for the ecology of the Venetian lagoon and his unique technical skills. An insect's body is comprised of 21 segments that must be fused together. To see Vittorio dexterity in quickly coordinating the Glass, the Flame & the Oven is a unique experience. His pieces are made with the zeal of an entomologist and are so realistic that they could be used for teaching or to crystallize Nature in a Museum. His Work is often likened to the Blaschka's Botanical display in the Peabody Museum at Harvard University.
Costantini's Work was shown in Museums throughout Italy and in

different corners of the World: Palazzo Grassi and Palazzo Ducale in Venice; the museum of Natural History in Bologna; the Museum of Venetian Art in Otaru, Japan, the Oceanographic Museum in Monaco and in the Corning Museum of Glass in New York. He participated in important Exhibits in Chicago (SOFA), London, Dusseldorf and Paris and his Work is carried by only few exclusive Galleries in the USA and in Japan.

Exhibits, Recent & Planed

| | |
| --- | --- |
| 1996 | Arte e Natura Bologna Italy |
| | Venezia Aperto Vetro Venice Italy |
| 1999 | The Sea in Glass Mostly Glass Gallery, Englewood NJ USA |
| 1999 | L'Italie en Miniature France |
| 1999 | Vitraria Italy |
| 1999 | Third International Glass Art Festival Hsinchu Taiwan |
| 2000 | Fauna & Flora Mostly Glass Gallery , Englewood NJ USA |
| 2000 | SOFA Chicago USA represented by Mostly Glass Gallery |
| 2000 | Venezia – New York via Torshalla, Sweden |
| 2001 | Jewels in the Air. An Exhibit of Butterflies and other of Costaniini's Fauna as part of the Monarcha Exhibit at the Sternberg Museum of Natural History Hays Kansas |
| 2002 | Sources of Inspiration GAS Conference, Amsterdam, May , Demonstration |
| 2002 | Centro Studio Vetro Summer 2002 course, San Servolo, Venice, Demonstration |
| 11/02 | Demonstration during the Exhibit Blascka's Sea Creatures, Sunderland, England |
| June 2003 | SOLO Exhibit at Mostly Glass Gallery, June 12, before the GAS Conference in Seattle. A Catalogue is planed for the Exhibit |